Facebook

Twitter

Google+

LinkedIn

StumbleUpon

Pinterest
Obama Administration Places Vast Majority of OCS Off Limits
WASHINGTON, D.C., March 31, 2010
- Although President Obama today announced what he called the "expansion of offshore oil and gas exploration," in reality the President LOCKED UP more land to American energy production - as shown on the maps below.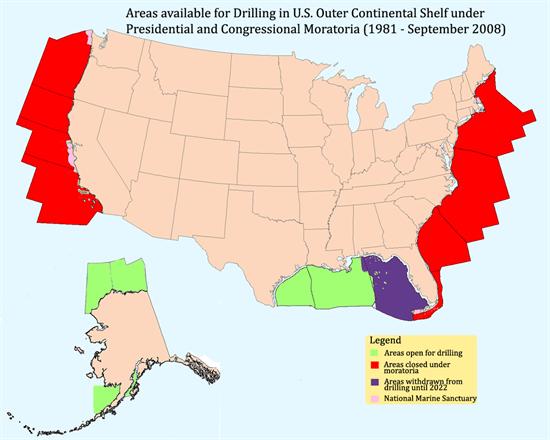 Click to enlarge map
Under the Presidential and Congressional Moratoria in place from 1981 through September 2008, all of the Atlantic and the majority of the Pacific were off-limits to offshore drilling.
**********************************************************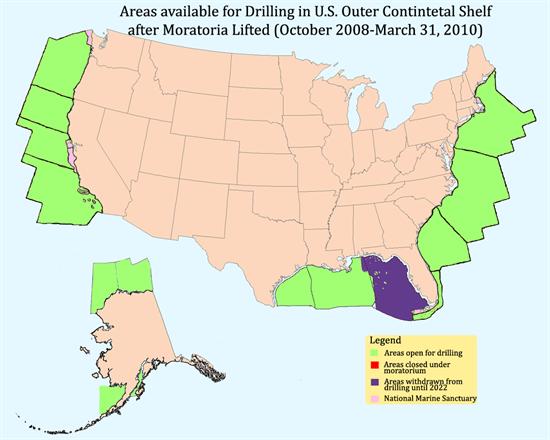 Click to enlarge map
In 2008, facing record gas prices, Congress and President Bush both announced an end to the decades-long ban on offshore drilling. This opened 500 million additional acres for new energy production that contain an estimated 14 billion barrels of oil and 55 trillion cubic feet of natural gas.
After the moratoria were lifted, the Bush Administration issued a 2010-2015 OCS leasing plan, and solicited comments on all aspects of the plan. The proposal included 31 OCS lease sales in all or some portion of the 12 of the 26 planning areas—4 areas off Alaska, 2 areas off the Pacific coast, 3 areas in the Gulf of Mexico, and 3 areas off the Atlantic coast.
**********************************************************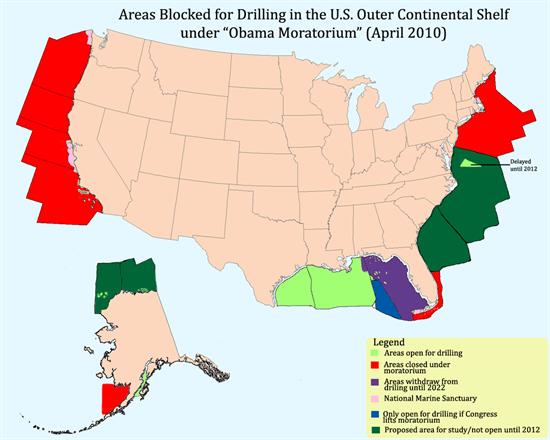 Click to enlarge map
Under President Obama's new plan, the majority of the areas that were open for drilling once the moratoria were lifted are now once again closed. This includes all of the Pacific Coast, the Northeastern Atlantic and Bristol Bay in Alaska.
The Pacific Coast alone holds an estimated 10.5 billion barrels of oil—almost 75 percent of the total amount available off the U.S. coastline in former Moratoria areas and 18 trillion cubic feet of natural gas.
The Northern Atlantic region, which will remain completely closed, contains an estimated 17.99 trillion cubic feet of natural gas.
In total, the new Obama OCS plan puts 13.14 billion barrels of oil and 41.49 trillion cubic feet of natural gas under lock and key.
The Administration is delaying plans to drill in the Atlantic off of Virginia's coast until 2012– discarding a lease sale that was scheduled to take place in 2011.
The Administration will only consider development of the Mid-Atlantic, Southern Atlantic, Chukchi and Beaufort Sea following Draft Environmental Study work to be conducted over the next year. It has NOT actually planned lease sales for these areas.
Although the Administration will allow drilling in a portion of the Eastern Gulf of Mexico – this can only happen if Congress lifts the ban that is in place until 2022. The Administration has not sent proposed language to make this change to Congress yet.
Technically Recoverable Undiscovered Resources (MMS 2006 Resource Assessment):
Available within areas previously under appropriations moratoria:
CLOSED BY THE NEW 2012 Obama OCS PLAN
Area
Acreage (millions)
Oil (Bbbl)
Natural Gas (Tcf)
Northern Atlantic

97.46

1.91

17.99

Southern California

88.99

5.74

10.03

Central California

43.68

2.31

2.41

Northern California

44.79

2.08

3.58

Washington-Oregon

71.02

0.40

2.28

Eastern GOM (in 50mi

[1]

)

21.00

0.70

5.2

Total:

366.94

13.14

41.49

CLOSED TO LEASING BUT PROPOSED FOR STUDY
OR AWAITING ACTION BY CONGRESS IN THE NEW Obama OCS PLAN
Mid-Atlantic

110.53

1.50

15.13

South Atlantic

50.99

0.41

3.86

Eastern GOM (50mi)

44.0

2.6

16.1

Total:

205.52

4.51

35.09
[1] Today's Administration proposal will make fewer resources available than actually shown in these tables. The Administration proposal mandates a 125 mile barrier around the Eastern Gulf of Mexico if opened by Congress. The estimates in these tables are based on a 50 mile barrier as proposed by the Senate Gang of 10 in 2008.
# # #

Contact: Jill Strait or Spencer Pederson 202-226-2311