Facebook

Twitter

Google+

LinkedIn

StumbleUpon

Pinterest
The United States is the world's global energy leader, in front of Russia and Saudi Arabia. Yet, the nation's energy infrastructure lags far behind. The Committee on Natural Resources is developing solutions to bridge America's energy infrastructure gap, including two important bills introduced this Congress that will remove red tape and unnecessary bureaucratic barriers that prevent Americans from accessing more affordable and reliable energy.
For more than half of the nation, residential natural gas prices are above average. For example, the average cost to heat a home in Massachusetts is 54% higher than the national average. However, since 2007, natural gas production in the Marcellus Shale formation in Pennsylvania alone has grown from 1 billion cubic feet of natural gas per day to 16.7 billion cubic feet as of this past April. The Marcellus Shale supplies 18% of the nation's natural gas. Despite this newfound abundance of natural gas, only certain regions of the country are benefiting from lower energy costs. This disparity is largely due to an out-of-date and inadequate pipeline system on the East Coast. As a result, natural gas from Pennsylvania and other energy producing states can't efficiently reach a number of states and regions.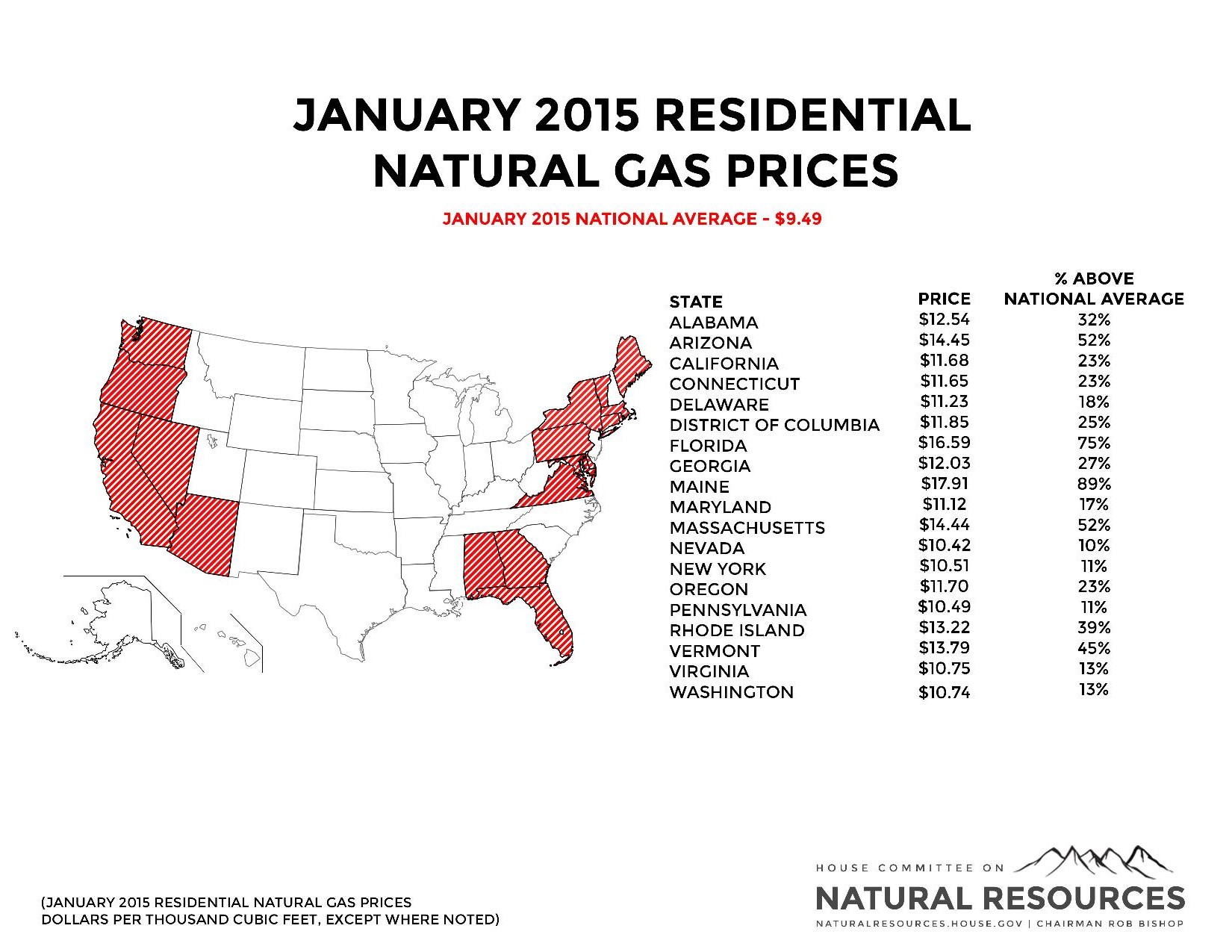 Currently, every time a pipeline needs to cross a parcel of land managed by the National Park Service, which includes the over 2,100 mile Appalachian Trail, a separate congressionally-enacted law approving the project is required in order for it to move forward. Since the late 1980s, five such bills have gone through this process. It should not take an Act of Congress—often a lengthy and uncertain process—to obtain such permits, especially when federal agencies tasked with such approvals have the technical expertise, and can ensure these projects are constructed in an environmentally safe manner.
Bipartisan legislation working through the Subcommittee on Energy and Mineral Resources seeks to remedy this problem. "The National Energy Security Corridors Act," introduced by Rep. Tom MacArthur (R-NJ) and Rep. Cedric Richmond (D-LA), establishes National Energy Security Corridors and streamlines the rights-of-way approval process for natural gas pipelines across federal lands. Further, the legislation answers the President's call for an updated infrastructure that meets our nation's energy supply, including the designation of energy corridors across the U.S. "The National Energy Security Corridors Act" will support job creation, safe transportation of important energy resources, and lower costs for consumers, especially those on the East Coast.
The bipartisan "Electricity Reliability and Forest Protection Act," introduced by Rep. Ryan Zinke (R-MT) and Rep. Kurt Schrader (D-OR), seeks to improve the safety and reliability of transmission and distribution of electricity across federal lands. Currently, utility crews must receive Congressional approval before preforming regular maintenance or the repairing of damaged power lines. When a right-of-way is not properly maintained, a tree can grow into or fall on to a power line, causing fires and a domino effect of electricity blackouts. This "Electricity Reliability and Forest Protection Act" will bring federal consistency, safety, and accountability to how power lines are protected from tree hazards, thereby helping with grid reliability and stabilizing electricity rates.
"The Natural Resources Committee, through these two bipartisan energy infrastructure bills, is answering President Obama's call to modernize and expand America's energy infrastructure, which is lagging far behind our nation's renewed energy capacity. The "National Energy Security Corridors Act" will address a critical infrastructure gap on federal lands and ensure natural gas resources safely and efficiently reach communities that are currently underserved. The "Electricity Reliability and Forest Protection Act" is a powerful tool to ensure grid reliability, allowing for safe electricity transmission, and will help keep the lights on for Americans across the nation. These bipartisan bills have a path forward, and we will work with the Obama Administration and members of the House and Senate to see that they are signed into law." – House Committee on Natural Resources Chairman Rob Bishop.
Recent Activity: