Facebook

Twitter

Google+

LinkedIn

StumbleUpon

Pinterest
Obama Administration American Energy Roadblocks Part 2: Hydraulic Fracturing on Federal Lands
Use #EnergyRoadblocks on Twitter for more American energy roadblocks by the Obama Administration
WASHINGTON, D.C., October 24, 2012
-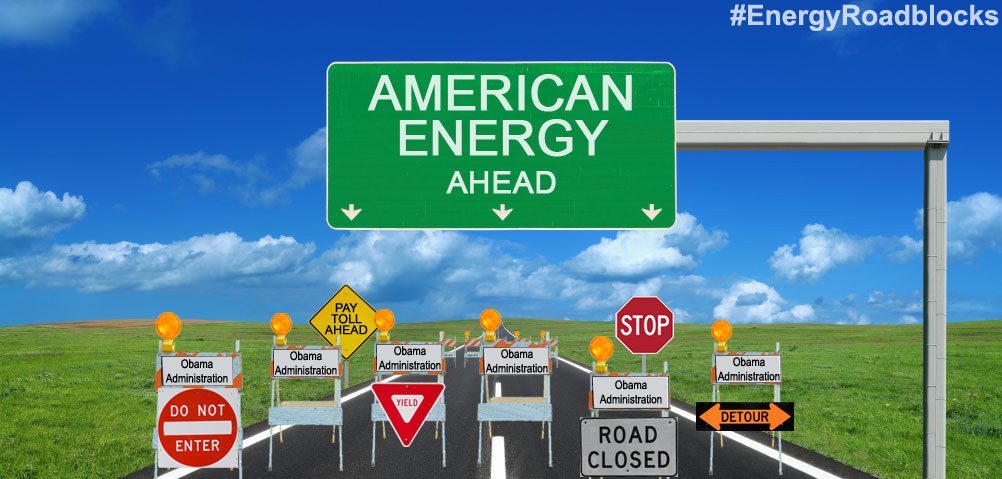 Technological advances in the state-regulated practices of hydraulic fracturing and horizontal drilling have caused oil and natural production from shale reservoirs on state and private lands to significantly increase over the past four years. Hydraulic fracturing is currently responsible for 30 percent of our domestic oil and natural gas production and represents one of the greatest opportunities for increasing our Nation's energy security. While states like North Dakota have seen oil production increase by 500% since President Obama took office due to hydraulic fracturing on state and private lands, the Obama Administration has been cobbling together mountains of government red-tape and burdensome regulations to make it nearly impossible for similar successful energy production on federal lands. Though President Obama frequently talks about his support for oil and natural gas, his Administration has imposed job-costing regulations and roadblocks that will keep these resources under lock and key.
To learn more about how the Obama Administration has blocked, delayed and hindered American energy production, visit /roadblocks
Click here to read Obama Administration American Energy Roadblocks Part 1: Offshore Drilling.
###

Contact: Jill Strait, Spencer Pederson or Crystal Feldman 202-226-9019