Facebook

Twitter

Google+

LinkedIn

StumbleUpon

Pinterest
Actual Gulf of Mexico Production Doesn't Match Secretary Salazar's Rosy Outlook
Out of Work Gulf Families Would Beg to Differ That "Production has remained at an all-time high."
WASHINGTON, D.C., March 3, 2011
- At today's House Natural Resources Committee hearing on the Department of the Interior's Fiscal Year 2012 Budget proposal, Rep. John Fleming asked Interior Secretary Ken Salazar about the Department's refusal to issue new offshore drilling permits.
Secretary Salazar responded, "When you look at the production within the Gulf of Mexico, even within the midst of the national crisis of the Deepwater Horizon, the production has remained at an all time high and we expect that it will continue as we bring new production online."
However, data on the actual production and forecasted production in the Gulf of Mexico collected by the U.S. Energy Information Administration located within the Department of Energy tells a drastically different story. According to the EIA, production in the Gulf has declined by nearly 300,000 barrels a day since last April.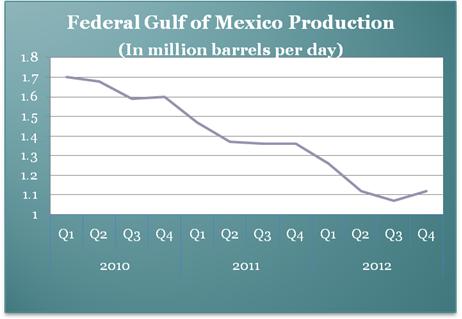 Source: EIA Short Term Energy Outlook
###

Contact: Jill Strait, Spencer Pederson or Crystal Feldman 202-226-9019