Facebook

Twitter

Google+

LinkedIn

StumbleUpon

Pinterest
A Postcard from All-of-the-Above American Energy to President Obama in Seoul, South Korea
"Please consider us during your upcoming 'Jobs-but-not-job-creation' forum. Like they always say, you'll find it when you're least looking for it."
WASHINGTON, D.C., November 18, 2009
-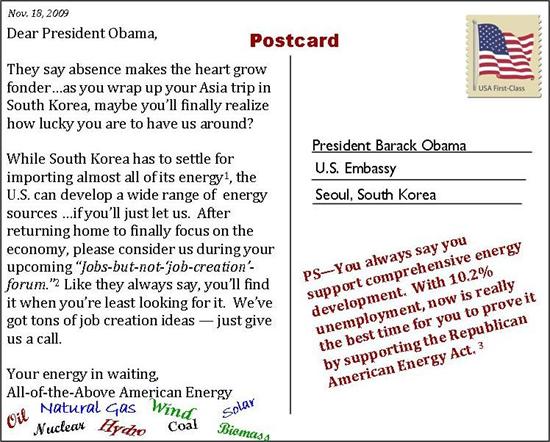 Click to enlarge
Background:
The Energy Information Administration reports that:

"With limited domestic energy resources, South Korea is almost entirely dependent on imports to meet its energy consumption needs."
On November 11th, the White House announced that President Obama would hold a Forum on Jobs and Economic Growth on December 3rd.

However, the Associated Press reported today that:

"President Barack Obama says creating jobs isn't the goal of a coming White House forum on jobs and economic growth."

President Obama told NBC News that he is holding this forum:

"To find out what exactly is going on."
In June 2009, House Republicans introduced the American Energy Act (H.R. 2846) - an all-of-the-above energy plan that will responsibly use our natural resources to create new energy and new jobs. This bill includes specific measures to encourage development of renewable energy sources, such as wind, solar, hydropower, nuclear and biomass, while also producing more American-made oil and natural gas.
Click here to view other postcards in the series.
# # #

Contact: Emily Lawrimore or Jill Strait (202) 226-2311