Facebook

Twitter

Google+

LinkedIn

StumbleUpon

Pinterest
A Postcard from U.S. Refineries to President Obama in Singapore
WASHINGTON, D.C., November 13, 2009
-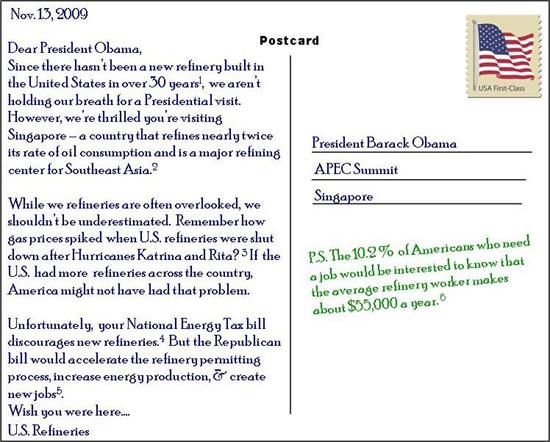 Click to enlarge
Background:
The House Republican Conference confirms that "the newest significant refinery began operating in 1977."
The Energy Information Administration's profile on Singapore.
The Congressional Research Service reports:

"Hurricanes Katrina and Rita shut down oil and gas production from the Outer Continental Shelf in the Gulf of Mexico, the source for 25% of U.S. crude oil production and 20% of natural gas output. Katrina, which made landfall on August 29, resulted in the shutdown of most crude oil and natural gas production in the Gulf of Mexico, as well as a great deal of refining capacity in Louisiana and Alabama, 554,000 barrels per day of which was still closed as of late October, 2005."
The American Petroleum Institute reports that:

"The United States will be more dependent on imports of gasoline and other petroleum fuels while U.S. refining production would be shifted overseas if a climate change bill passed in the U.S. House of Representatives becomes law."
The Republican American Energy Act will:
Increase American supplies of gasoline and diesel by encouraging greater refinery capacity by streamlining and accelerating the refinery permitting process.
Require the President to designate at least three closed military installations as potentially suitable for construction of a refinery, including at least one suitable for refining biomass to produce biofuel.
The Bureau of Labor Statistics confirms that the median refinery worker makes almost $55,000 a year.
Click here to view other postcards in the series.
# # #

Contact: Emily Lawrimore or Jill Strait (202) 226-2311