Facebook

Twitter

Google+

LinkedIn

StumbleUpon

Pinterest
Another Postcard from U.S. Nuclear Energy
WASHINGTON, D.C., November 12, 2009
-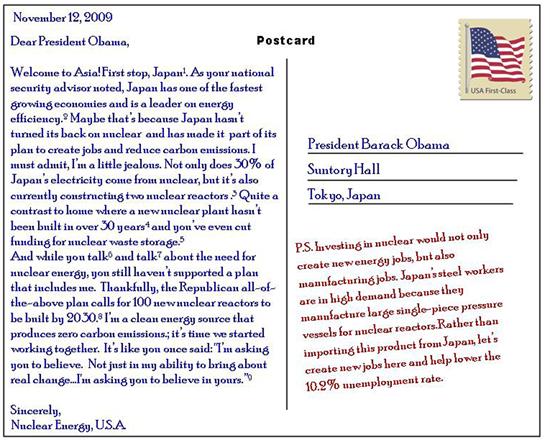 Click to enlarge
Background:
On Thursday, November 12th, President Obama departed for a tour of Asia that includes stops in Japan, Singapore, China and South Korea.
Press briefing by Deputy National Security Advisor Security Advisor for Strategic Communications Ben Rhodes; National Security Council Senior Director for East Asian Affairs, Jeffery Bader; and Deputy National Security Advisor for International Economic Affairs Michael Froman on the President's trip to Asia, November 9, 2009.
World Nuclear Association, Country Briefings, http://www.world-nuclear.org/info/inf79.html.
In a speech on April 22, 2009, President Obama expressed support for all types of energy, including nuclear:

"It's going to take a variety of energy sources, pursued through a variety of policies, to drastically reduce our dependence on oil and fossil fuels. As I've often said, in the short term, as we transition to renewable energy, we can and should increase our domestic production of oil and natural gas. We're not going to transform our economy overnight. We still need more oil, we still need more gas. If we've got some here in the United States that we can use, we should find it and do so in an environmentally sustainable way. We also need to find safer ways to use nuclear power and store nuclear waste."
On October 27, 2009, President Obama again expressed support for nuclear energy:

"That's going to finally make clean energy the profitable kind of energy in America -- legislation that will make the best use of resources we have in abundance, through clean coal technology, safe nuclear power, sustainably grown biofuels, and energy we harness from the wind, waves, and sun."
The Republican American Energy Act (H.R. 2846) is an all-of-the-above approach that includes renewable energy sources, such as wind, solar, hydropower, nuclear and biomass, while also producing more American-made oil and natural gas. This is the best way to grow our economy, create new high-paying jobs, protect our environment, and provide affordable energy.
Click here to view other postcards in the series.
# # #

Contact: Emily Lawrimore or Jill Strait (202) 226-2311