Facebook

Twitter

Google+

LinkedIn

StumbleUpon

Pinterest
Another Postcard from the U.S. Outer Continental Shelf
"Unemployment is nearing 10% and I can help produce over a million new jobs…Help me, help you."
WASHINGTON, D.C., October 14, 2009
-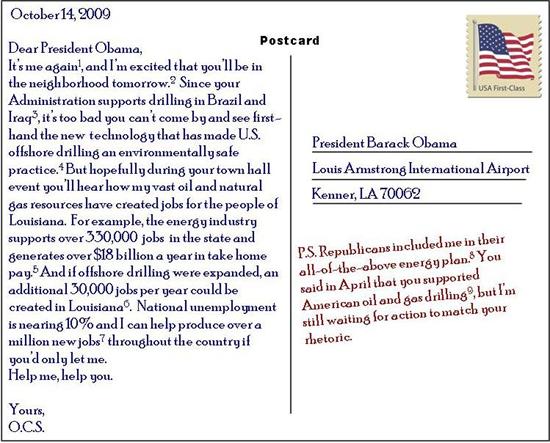 Click to enlarge
Background:
A Postcard from the U.S. Outer Continental Shelf, June 2, 2009.
On October 9, 2009 the White House announced that President Obama and Cabinet Members will travel to New Orleans on Thursday, October 15.
In August, the Wall Street Journal reported that "the U.S. is going to lend billions of dollars to Brazil's state-owned oil company, Petrobras, to finance exploration of the huge offshore discovery in Brazil's Tupi oil field in the Santos Basin near Rio de Janeiro." In September, Vice President Biden traveled to Iraq and urged the Iraqi government to develop more oil and create new drilling jobs.
Advances in technology have made OCS development cleaner and safer than ever. OCS leases produce about 1.4 million barrels of oil a day. The Mineral Management Services calculates that since 1980 less than 0.001% of the oil produced in the OCS has spilled.
The Economic Impacts of the Oil and Natural Gas Industry on the U.S. Economy: Employment, Labor Income and Value Added, PricewaterhouseCoopers, September 8, 2009.
New report says offshore drilling would help the economy, The Times-Picayune, 3/1/09.
The Economic Contribution of Increased Offshore Oil Exploration and Production to Regional and National Economies, American Energy Alliance, February 2009.
The Republican American Energy Act (H.R. 2846) is an all-of-the-above approach that includes renewable energy sources, such as wind, solar, hydropower, nuclear and biomass, while also producing more American-made oil and natural gas. This is the best way to grow our economy, create new high-paying jobs, protect our environment, and provide affordable energy.
On April 22nd, President Obama expressed support for domestic oil and natural gas production:

"It's going to take a variety of energy sources, pursued through a variety of policies, to drastically reduce our dependence on oil and fossil fuels. As I've often said, in the short term, as we transition to renewable energy, we can and should increase our domestic production of oil and natural gas. We're not going to transform our economy overnight. We still need more oil, we still need more gas. If we've got some here in the United States that we can use, we should find it and do so in an environmentally sustainable way."

However, after implementing a six-month delay, Secretary of the Interior Ken Salazar said that a new offshore drilling plan may not be in place until 2012.
Click here to view other postcards in the series.
# # #

Contact: Emily Lawrimore or Jill Strait (202) 226-2311