Facebook

Twitter

Google+

LinkedIn

StumbleUpon

Pinterest
A Postcard from U.S. Nuclear Energy
"You talk a lot about climate change, but always seem to forget about me - clean energy that produces zero carbon emissions."
WASHINGTON, D.C., July 7, 2009
-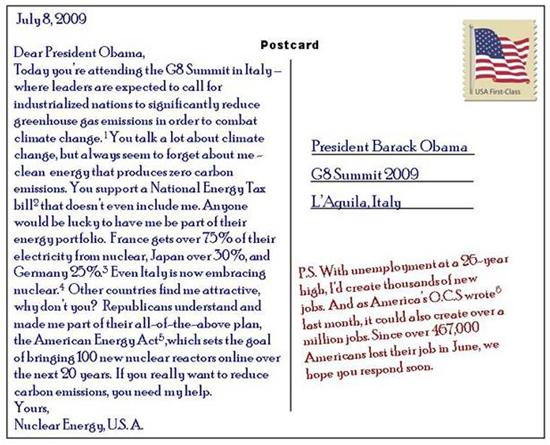 Click to enlarge
Background:
President Barack Obama arrived in L'Aquila, Italy today to participate in the Annual G8 Summit to meet with leaders from Canada, the Russian Federation, France, Germany, Japan, Italy, and the United Kingdom.

Climate change is expected to be one of the top issues discussed and could result in a global goal of "cutting greenhouse gas emissions by 50 percent by 2050."
The Democrats' National Energy Tax Legislation, H.R. 2454, will spike electricity bills, send jobs overseas and devastate the United State's economy – while doing nothing to stop climate change.
World Nuclear Association, Country Briefings, http://www.world-nuclear.org/info/info.html#countries
The Republican American Energy Act (H.R. 2846) is an all-of-the-above approach that includes renewable energy sources, such as wind, solar, hydropower, nuclear and biomass, while also producing more American-made oil and natural gas.  This is the best way to grow our economy, create new high-paying jobs, protect our environment, and provide affordable energy. A Postcard from the U.S. Outer Continental Shelf, June 2, 2009
Click here to view other postcards in the series.
# # #

Contact: Emily Lawrimore or Jill Strait (202) 226-2311